2570-88 GroundsKeeper Cigarette Butt Receptacle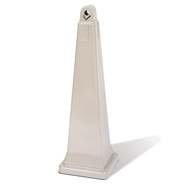 Description
Classic style, all-weather solution to an unsightly environmental problem.
Restricted opening shields cigarette butts from view, weather and flow of oxygen.
Two-piece design makes cleaning quick and easy.
Inner galvanized steel canister securely holds large quantities of cigarette waste.
Constructed of smooth injection molded plastic, rust resistant and easy to clean.
Steel base plate adds weight for stability and discourages theft.
Custom imprinting available; contact Rubbermaid Customer Service at (800) 810-7847 for details.
Specs
Length: 12 1/4 in 31.1 cm
Width: 12 1/4 in 31.1 cm
Height: 39 7/16 in 100.2 cm
Carton Cube: 3.39 ft3 0.10 m3
Ship Weight/Carton: 15 1/2 lb 7.03 kg
Video