Whether you're a farmer, a landscaper or a backyard gardener, we offer a variety of Rubbermaid lawn carts, wheelbarrows and Rubbermaid garden carts that will help make your work easier and more productive. For heavy-duty work, our tractor carts -- available in 8 cubic feet and 15 cubic feet models -- provide the ideal wagon for transporting hundreds of pounds of landscaping or gardening supplies or equipment to the location where they're needed.
Whatever your outdoor needs may be, RubbermaidCommercialProducts.com is confident that you'll find what you're looking for to help out with the job right here!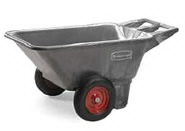 Popular big wheel carts are great for around the home and farm. Also a favorite of zoos and transporting animal waste.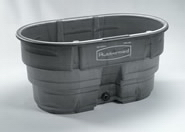 For pricing, please call 1-800-810-7847.
Unfortunately we can no longer offer free shipping on the stock tanks! Please send us an e-mail or give us a call for pricing.