Rubbermaid Storage and Stock Picking Carts
Whether you're shopping online for Rubbermaid storage bins, shelves, containers, tool boxes, or mobile work stations, you're sure to find just what you're looking for -- right here at Georgia Mills Direct's Rubbermaid Commercial Products.com!

The Brute totes are a tough long lasting storage solution. Two sizes and colors to chose from. Also stack-able for a smaller footprint.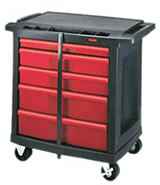 Need a mobile tool or item storage this section is for you. Trade carts for just about any industry or profession. Durable long lasting construction.