2674 Slim Jim Hinge Lid for Slim Jim Containers Pack of 4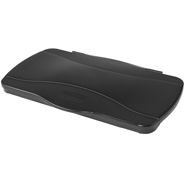 Description
The Rubbermaid Commercial Executive Series Slim Jim® Hinged Lid promotes recycling and improves productivity.
Hinge lid folds flat while in use and completely covers waste when closed; complies with Health & Human Services Standard 5-501.113 of the 2005 FDA Food Code.
Swing Lid conceals waste from view and provides no-touch access.
Encourages waste separation and recycling with interchangeable, color-coded tops.
Compatible with Slim Jim® containers.
Specs
Length: 21 7/8 in 55.6 cm
Width: 13 1/2 in 34.3 cm
Height: 1 1/4 in 3.2 cm