Rubbermaid Vacuums and Carpet Sweepers
Carpet Sweepers, Cleaners and Vacuum Cleaners
Rubbermaid Commercial Products solves all of your carpet cleaning equipment needs. Below are just a few of our of full lines of carpet sweepers, cleaners, and vacuum cleaners.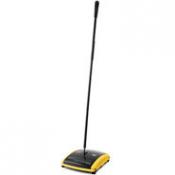 Carpet Sweeper(s): Maintain your carpet sweeper by keeping the carpet sweepers' rotor brush clean and free of carpet threads, accumulated hair or any other fibrous material...

Full line of all replaceable parts for Rubbermaid Vacuums.