Rubbermaid Microfiber Mop Heads
Full collection of Rubbermaid's Microfiber Mop heads Including: Maximizer Microfiber, Microfiber String Mops and Microfiber Tube Mops for almost any cleaning application!

Rubbermaid's large and medium microfiber web foot string mops in packs of six

Long-lasting Rubbermaid microfiber tube mop cleans and dries floor fast.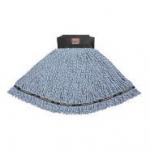 1924812 Maximizer Microfiber Mops Pack of 6
Maximizer Microfiber Mops Blend delivers the highest absorbency ratio of any mop in its class.